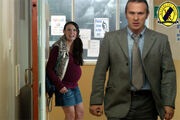 Zoe Ramsden (portrayed by Claire Cooper) was a student at Waterloo Road in 1x03. She arrived at the school heavily pregnant and demanded to see headmaster, Jack Rimmer . She told Kim Campbell  that she was the daughter of a the landlord of a pub where Jack used to drink. On meeting him, Zoe dropped the bombshell that he was the father of her baby, conceived after a drunken night and told him she wanted £10,000 from him in exchange for her keeping her mouth shut. A shocked Jack was forced to come clean to Andrew Treneman about Zoe's blackmail threats and in the process revealed he thought she was at least 18, unaware she was actually 15. After Andrew convinced him not to give into her demands, Jack decided to resign.
Zoe unexpectedly went into labour during an English lesson with Tom Clarkson and gave birth to a baby girl. This event led to Tom wanting to keep Lorna's as yet unborn baby, but unbeknownst to tom Lorna had already aborted it, lying to Tom that she'd miscarried.
Kim realised Zoe had lied to her about the due date of her baby after previously telling her she wasn't due yet. Zoe then admitted that Jack wasn't the father and the blackmail was the idea of her abusive boyfriend Craig Harris — a former pupil who had been expelled from the school three years earlier and was intent on gaining revenge on Jack.
She explained to Jack that her Dad worked at the pub — The Swan and that she pulled a few pints for him. One night he was so drunk she walked him home and thats how she knew what his house looked like. At the start she is on the bus and Lewis Seddon comes over and starts talking to her and sees Craig Harris pinning her up on by the fence and knocking her to the floor.