Matt Wilding


Portrayed by
Chris Geere
First Appearance
Series 3 Ep 01
Last Appearance
Series 7 Ep 30
Occupation
Drama Teacher, English Teacher, Music Teacher, Head of Music, Emergency Foster Carer
Relationships
Romances
Colin Scott
Children
Sambuca Kelly(foster daughter), Martha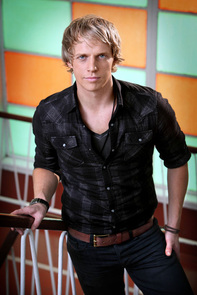 A talented musician, boyishly good-looking Matt is enthusiastic and will work round the clock at things that really interest him, such as the production of a Waterloo Road musical. He's got a good rapport with the kids and as a result has found himself helping out with some of the school's more difficult pupils as they embark on vocational training and life skills.
Matt's first girlfriend back in Cheshire, Charlotte, was also his last.
Matt's been with Colin, his boyfriend, for three years, but for most of it referred to him as his 'housemate'. The fact that Matt was unwilling to live openly as a gay man was a source of constant rows between them and even after he came out, first to the school and then to his overbearing mother, the relationship was doomed to failure. Now Matt finds himself newly single and is burying his grief in a partying lifestyle.
He returns to Waterloo Road following a spell at an independent school. Handpicked by Michael to once again head up the Music and Drama departments and oversee the introduction of a school orchestra. Whilst he firmly gets his feet back under his desk at Waterloo Road his best friend Rosie has other ideas to keep him busy. Matt's agreed to be sperm donor but will their friendship withstand the pressure of impending parenthood?
At the end of Series 7, Matt left Waterloo Road for a second time after the school moved to Scotland, and he gained another job in the Rochdale area.
Matt Wilding is very nice with others in the room. Matt's boss is Michel
Matt Wilding is head of the Music and Drama department
Matt to help his studers to play theory music
Matt is good friends with his other teachers such Steph Haydock , Jasmine Koreshi , Tom Clarkson and Daniel Chalk
In series 7 he donated sperm to his friend Rosie, who gave birth to baby Martha


Ad blocker interference detected!
Wikia is a free-to-use site that makes money from advertising. We have a modified experience for viewers using ad blockers

Wikia is not accessible if you've made further modifications. Remove the custom ad blocker rule(s) and the page will load as expected.