Jasmine Koreshi


Portrayed by
Shabana Bakhsh
First Appearance
Series 3 Ep 01
Last Appearance
Series 4 Ep 20
Occupation
English Teacher
Relationships
Romances
Rob Cleaver
Jasmine Koreshi
 is bright, smiling and enthusiastic. She is a strong believer in doing things by the book – as she's been taught at college – and her obsession with dotting every 'i' and crossing every 't' aggravates some of the more laid back members of staff such as fellow English teacher Grantly. Jasmine quickly became good mates with Davina and are each other's confidantes. However, their friendship was severely tested when Jasmine became besotted with Rob, the new PE teacher, and Davina finds herself having to give Jasmine bad news about her new love. Jasmine left Waterloo Road for pastures new after the truth about Rob came out. Essentially Jasmine has strong opinions and good intentions such as when Kim Campbell turned out to have taken Grace and she thought that someone like that shouldn't work in a school. She is good friends with 
Davina Shackleton
 and 
Matt Wilding
who she is seen next to in the opening titles of series 3.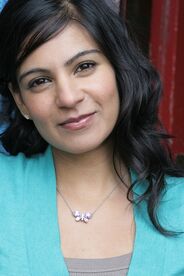 Jasmine left Waterloo Road at the end of series 4 for finding out the truth about Rob.
Quotes
If you spent less time floating like a butterfly, I wouldn't have to sting you with a D
If you didn't give me so much lip i wouldn't give ye a detention 
Ad blocker interference detected!
Wikia is a free-to-use site that makes money from advertising. We have a modified experience for viewers using ad blockers

Wikia is not accessible if you've made further modifications. Remove the custom ad blocker rule(s) and the page will load as expected.