Dale Jackson


Portrayed by
Finlay MacMillan
First Appearance
Series 10 Episode 11 (A New Start)
Last Appearance
Series 10 Episode 20 (Final Episode)
Cause/Reason
End of the programme
Relationships
Romances
Lisa Brown
Dale Jackson used to be a drug addict until he took up cycling. He joined Waterloo Road as a cyclist training for a race, too distracted to get anything done at school and constantly getting into trouble and locks a science teacher in a store cupboard and stole Maggie Budgen's car with lenny brown after he finds him smoking drugs .
Series 10 Spring Term
Edit
Dale joins Waterloo Road not getting on with the other residents of the school house, notably Lenny Brown and Darren Hughes. His presence also causes an argument between Darren and his girlfriend Rihannion Salt after she makes a comment about his physical attraction.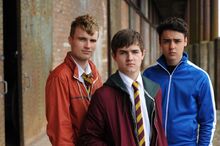 In episode 12, Scott Fairchild starts picking on Dale, nicking his bike and 'busting' it to the disgust of Kevin Chalk. Kevin later repairs his bike, although later on in the episode, to wind up Kevin, Scott nicks Dale's bike leading to Kevin chasing him and ultimately falling off his bike and hitting his head.
Dale makes a friend out of Lenny Brown in episode 13, who agrees to be his training partner. Lenny notices Dale is consistently eating less and less, missing meals to try and reach his target for the cycling team.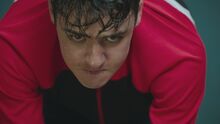 On the day of his trial, Dale walks out of his mock exam, provoking Marco D'Olivera to pursue him, something that later gained him scrutiny from Lorna Hutchinson. Maggie Budgen, the guardian of the school house, later finds laxative tablets and a set of scales in Dale's room, and after confronting Lenny on his way to school she finds out from that Dale isn't eating and when he does he makes himself sick. Her and Lenny then go to Dale's trial, but let him continue upon seeing how enthusiastic he is. Dale smashes the trial, but later collapses causing Maggie to tell the officiators about the anorexia and losing Dale his place on the team. Dale is heartbroken and is told he cannot cycle until he conquers his eating disorder, which he ignores and continues to fast.
Episode 17 sees Dale lose control of his life, blaming Maggie for his failure, Dale goes on a warpath locking Marco in a cupboard and stealing Maggie's car to go joyriding. His friendship with Lenny Brown reaches breaking point when he has a one night stand with Lenny's twin sister Lisa. However, Lenny then discovers from Lisa that she wanted to use him for sex but couldn't because he was too weak from not eating. We last see see him in episode 20 when he speaks about how Waterloo Road has helped him and he is part of the students that ultimately help Waterloo Road to stay open.